Achieving a perfect Avvo Rating of 10 and receiving a dozen gleaming 5-star reviews on Avvo, it's no surprise that Florida Adoption Attorney Jeanne T. Tate is a true gem in the Adoption Law world and beyond.
In April, Jeanne was named a 2021 Top-Rated Lawyer by Avvo in recognition of her flawless track record and superlative service. Take a look below to see what people are saying about Jeanne: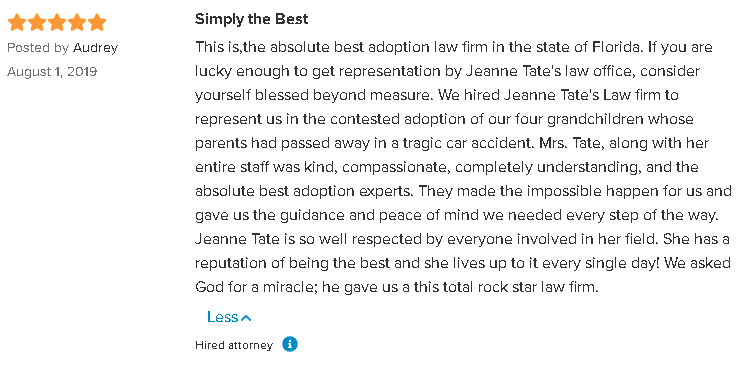 More about Jeanne and her Firm: The law offices of Jeanne T. Tate, P.A. focus on providing comprehensive, individual, and affordable legal services to adoptive parents, adoption agencies, and birth parents in a professional and supportive environment, including international, domestic, special-needs, contested, appeals, interstate, second parent, stepparent, relative, minority adoptions and same sex couple adoptions. Email or Call Us Today to see how we can help you.